Welcome to the 12th edition of Designer's Digest. It's been three months already since I started this newsletter, I can't believe how time flies. Today I want to talk to you about doubting yourself.
You know those times when you do your best but the results aren't clear immediately? It's easy to panic at such times and start going down the "I suck", or even "I'm worthless" spiral. But as you'll see, those are the moments when you need to persist. Adjust your direction slightly but keep going.
Do you enjoy this newsletter? Forward it to a friend or tell them to subscribe here. I'll be forever grateful! 🙏
In this edition:
🅰 Intel One Mono​
🤦‍♂️ Why you fail to influence stakeholders as a designer​
🧑‍💻 What happens when you set your techies free to build the perfect workspace?​
How are you? I'm happy to report that I completed my migration away from Mailchimp. This is the first newsletter that comes from ConvertKit! 🎉 It took me a couple of weeks to complete but it wasn't as hard as I feared it would be. I've only been using ConvertKit for these past few weeks but I can already see that it's a far superior product. I can now finally see who already purchased my products and stop pestering them with promotional emails 😅 ConvertKit will also cost me only half of what I was paying for Mailchimp so it's a win-win!
Something else that I've been rushing to complete lately is the renovation of our lawn at home. There's a beautiful metaphor for what happened with my business here, so bear with me. When we moved into our house I paid a shitload of money to a gardener to establish a lawn. I was way too busy to do it myself and had no idea how to do it, but we needed a nice lawn so that our dog could run free in the yard. But the gardener did a shitty job and the lawn was patchy and full of weeds by early summer. Being busy at work and finishing our house, I neglected it. So it got even worse. It got to a point where it was mostly just weeds thriving in our yard.
In autumn last year I decided to redo the lawn completely. On my own this time. So I watched a couple of videos on YouTube and learned how to do it properly. The more I learned, the more I saw what a poor job the gardener did. I scarified the soil, put the seeds down, overlaid them with a layer of fertile soil, and watered it lightly three times per day. Then I waited. Water. Wait. Water. Wait…
Then, a couple of days later, you start to panic. You doubt yourself — did I do everything right? Did I fuck something up and don't even know it? What if the grass doesn't grow? After all the work, all the money I put into it?
Then, one day I got up, feeling crushed and on the edge of giving up, I dragged my feet outside to start watering the lawn. That's when something caught my eye. It was tiny and almost imperceptible. There they were — tiny sharp blades of baby grass. Holy shit! Finally! Does that mean I don't suck? I did something right? I got my excitement back and kept watering the lawn three times a day. Diligently and meticulously, with excitement now. The tiny green blades of baby gras kept multiplying. The more there were, the more they were multiplying.
The same happened with my business. I neglected it and the weeds spread like crazy — bad thoughts that erode your confidence. The sales of my book dried up. It went from earning me around 20% of my monthly income to almost 0. Until I decided to do something about it. Getting laid off from my full-time job was the kick in the ass that I needed. Optimising the infrastructure of my business by moving from Mailchimp to ConvertKit, updating my website, and starting a Slack community for designers, were all tiny seeds that I planted. I kept working on these things diligently, just like watering the lawn meticulously three times a day.
Now, I'm almost ready to fully restart my business. But the tiny baby grass blades are already starting to spring up. These blades stir up feelings of hope and eliminate the self-doubt (the weeds) that used to thrive in my head. I'm excited again, I'm regaining my confidence. Thanks for sticking with me through these hard times. Without your support, I'd be completely lost after the layoff. Stay tuned, there are more cool things coming soon!
🅰 Intel One Mono
I discovered this font by doing research for a future blog post about fonts for coding. Designed by Frere-Jones Type, for Intel (obviously), it's an open-source font that is easier to read. It maximises legibility to help prevent developers' fatigue, eye strain, and coding errors. As they were designing it, a panel of low-vision and blind developers provided feedback. How cool is that? It comes in 4 weights as well as the italic style. You can download it on GitHub.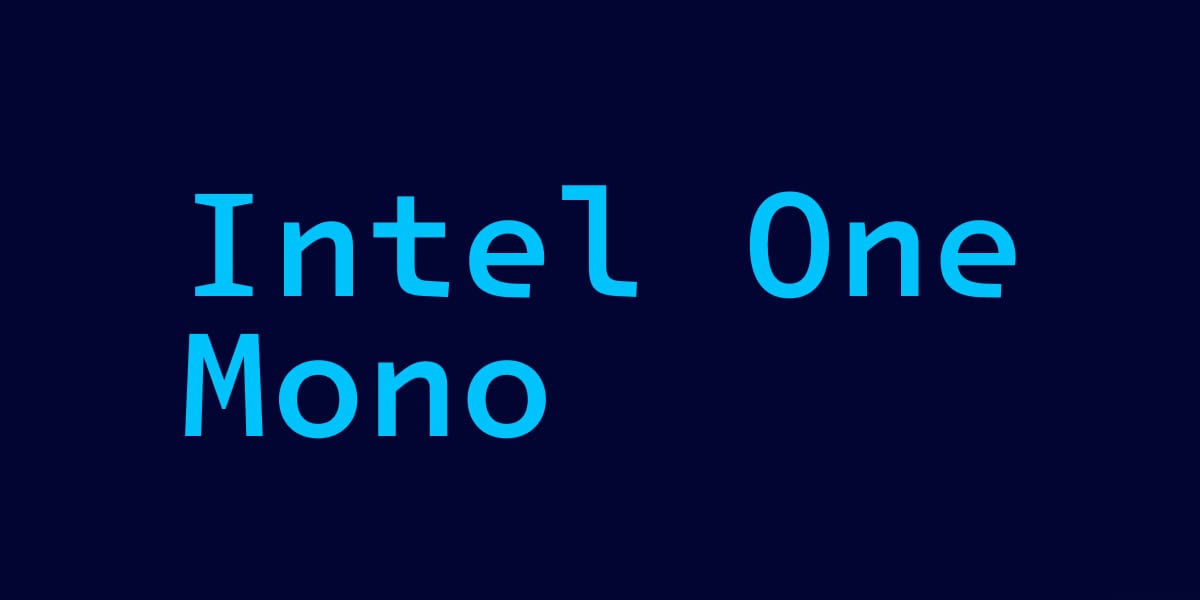 🤦‍♂️ Why you fail to influence stakeholders as a designer
​This is a brilliant article by Tim Chan. I wish I had this type of knowledge when I started out as a designer and just couldn't get people's buy-in when I tried to sold them "the design way." I think we've all been there as designers — you try to convince your product manager, or the engineering manager, or even your design manager that the process used in the place you work isn't good enough. So you want to improve it and come up with suggestions. Then you're shocked when you see that all your suggestions land on deaf ears. Read this article to see why this happens. My favourite piece of advice from Tim:
Realistically, you can't change much for the current project you are in, but you can work towards influencing stakeholders to make changes on the next one.
🧑‍💻 What happens when you set your techies free to build the perfect workspace?
As you probably already know, I'm a huge opponent of open-plan offices. I went as far as call them "sweatshops of the West" in my blog post that trended on Medium. So when I saw the title of this blog post, I was full of doubt. Did they really finally get it? Are they moving away from open-plan offices? The short answer is: no, not at all. I see this as the next iteration of open-plan offices that so many people hate. But Miele says that they designed their new workspace with continuous feedback from their workers.
I actually think this is a turn for the worse. You want some alone time? Close yourself into a box resembling a ski lift or a rickshaw. So if you're a designer, you need to choose between privacy and working on a larger monitor. So much for a great workspace. And what's with the sleeping pods, the kitchen where people cook, the laundry room, and the "dedicated rooms for meditation/prayer, maternity, and recreation/yoga?" This is not even an office anymore, it's your home away from home. What will be the next iteration? Just sell your home and live in the office so you can work 16 hours a day?
This may work for people in their 20s with high enthusiasm and energy. Young people who prefer mingling with others instead of privacy. Is this yet another step towards burning people out and dumping them afterwards? It's supposed to be an alternative to remote work, to lure people back into offices. Where would you rather be for the 16 hours when you're awake? Home or an office like this one?
So to answer the question in the post title What happens when you set your techies free to build the perfect workspace?
Apparently, you still get a shitty open-plan office. Just the next iteration of it where they don't want you to go home at all.
---
When you're ready, there are two ways I can help you right now:
​Join my Slack community to interact with designers that have similar problems as you (Still free at the moment)
​Sign up for the upcoming enrolment of UX Buddy — my UX portfolio course to help designers land their dream job
That's it for this Monday, have a great week! 👋
Cheers,
Matej