Imagine the following scenario: you and I haven't met, but we recently got in touch to collaborate on a project. We decided to meet up to discuss things so we grab a cup of coffee in a local coffee shop. I present you my views on the project and ask you a bunch of questions. You answer and share your thoughts, but only on the things I ask about. Then, I realise that the conversation has been quite one-sided so I try to change that and say "okay, do you have any questions for me?" You reply with a short "no, I'm good."
Try to put yourself in my shoes. I discussed a project that I'm passionate about and shared my thoughts and asked questions trying to find out if a collaboration with you makes sense. I was trying to see if you're as passionate as I am, but so far, I failed to recognise that passion despite your answers being generally good.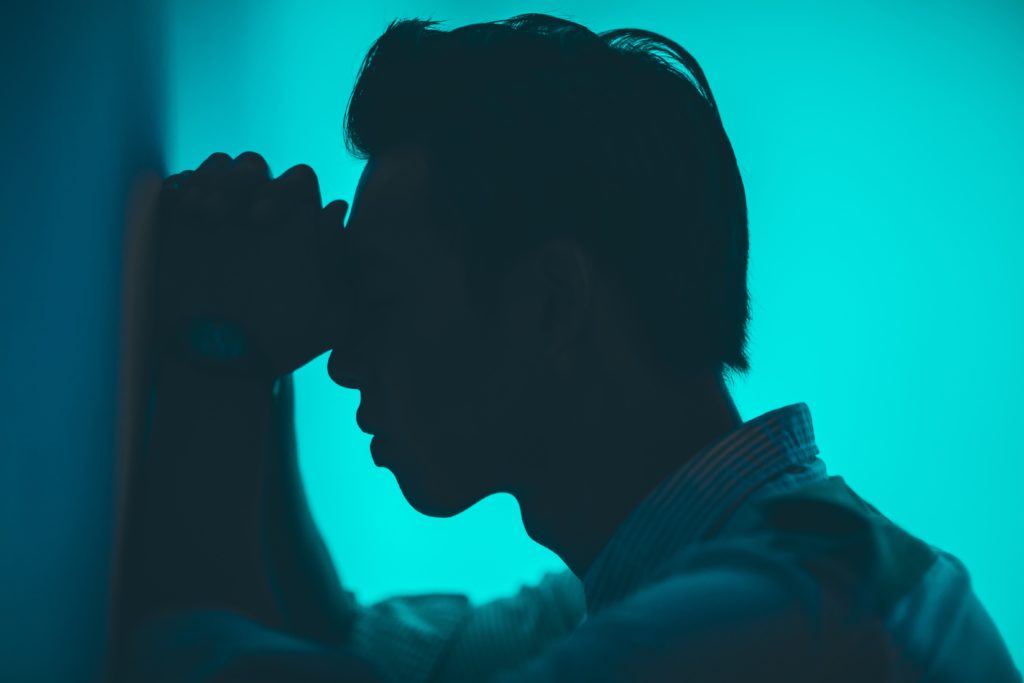 📣 My new online course UX Buddy helps designers create their portfolio, find, and get an awesome UX design job, as well as learn how to land that job with job interview preparations. Registrations are now open for a limited and you can get it with a 25% discount. Check it out!
This is what happens in most job interviews that I lead. I ask my questions and leave the last 15 minutes to the candidate so they can ask theirs. But in 80% of cases, they either say that they don't have questions or ask something like "what do you like about insert company name the most?" This does two things:
It shows me that you may not be very interested in the opportunity
You're wasting your biggest opportunity to find out whether this position is good for you or not.
Today I want to focus on the second one—the wasted opportunity to find out if the job is the right one for you. Job interviews aren't meant to be one-sided. Companies who understand that will always structure their job interviews in a way that gives the candidate the chance to ask questions too. That's a first sign that the company may be a good one to work for. But for designers it's a bit more complicated. Companies may have well structured and organised job interviews, but are they good companies for designers to work at? What is their UX maturity? Do designers do meaningful work informed by research and focused on solving user and business problems? Or are they misused and mostly "make things look pretty?" Are they equal partners to the product managers and engineering managers? Do they have a seat at that table? Are they embedded in small teams who they work closely with? Or do they have to work for multiple teams and because of that only have the ability to do superficial and rushed design work?
Not knowing answers to these questions may lead to one of the three pitfalls in your UX career.
The pitfalls of joining a company with a low UX maturity
There are three main pitfalls I want to discuss and they're all interconnected. When you fall into one, you'll fall into the other two as well. I made all these mistakes in my career as a designer, that's why I decided to create the UX Buddy course. With it, I can help other designers avoid making the same mistakes.
Pitfall one: misalignment in understanding design
Companies with very low UX maturity run a risk of completely misunderstanding design. If you don't find out about this misalignment in the job interviews, you'll join a company that has a different view of what design is. This means that you'll end up doing work that you don't want to do and there will be little you can do about it. You'll have two options, you'll need to come to terms with it and keep doing boring work, or quit and find a better job. The longer you stay with such company, the harder it will be to find a better job.
Pitfall two: companies with low UX maturity are unlikely to improve
When the UX maturity of a company is low, they are unlikely to understand that they have a problem. They don't understand that they're not using the full potential of good design work and so they don't make an effort to improve. When they hire more designers, they do a poor job of it. For example, they'll bring in UI designers to do UX design, because UI designer's salaries are lower. UI design is just one of many things under the UX design umbrella so UI designers can't help improve the design work. Not in a really meaningful and impactful way. Even if they hire UX designers, their low UX maturity will prevent them from identifying the good candidates for the job. The more such hiring is done poorly, the worst it gets. It leads to company being perpetually stuck in low UX maturity.
Pitfall three: working for companies with low UX maturity will stall your career
If you work for a company with low UX maturity, that doesn't understand what design is, you'll do low quality design work. The biggest risk here is that you may get stuck doing boring and meaningless design work which means you won't be able to write case studies to put in your UX portfolio. With the UX industry becoming top heavy, with so many senior UX and Product designers out there, how are you going to compete in the job market? If you can't do UX research, you're not solving user problems, not validating your solutions with user testing and quantitative tests, what will you put in your portfolio? Or more importantly, what will you put in your portfolio in order to get that better job at a company with a higher UX maturity?
It's best to escape these pitfalls by asking good questions in job interviews. But which questions should you ask?
Which questions should designers ask in job interviews?
Designers should ask many questions in job interviews. Remember, use the opportunity to find out if the company is the right one for you! Find out if their UX maturity is high enough to allow you to do meaningful design work, and find out if there's an opportunity to increase the UX maturity further. It may be ok to join a company with a relatively low UX maturity, as long as there's a genuine desire to improve it. It's very rewarding to be able to have an impact like that at a company. But if that desire isn't there, you should avoid such companies at all costs. Here are a couple of questions I recommend designers should always ask in job interviews:
When is the first UX research typically conducted?
What is the ratio of UX designers to software developers?
How do UX designers work with other roles? Are they embedded in cross-functional teams?
How often are new features released? What is the approach to improve released products and features?
Let's take a closer look at each of these.
When is the first UX research typically conducted?
Ask this especially if you fear that the company doesn't do UX research well, early, or often enough. Also ask about the types of research they do. Do they do numerous types early and throughout the project (indicates high UX maturity) or just some basic usability testing after the feature is released (indicates low UX maturity)?
What is the ratio of UX designers to software developers?
You don't want to be outnumbered so that all you'll do is putting out fires. To do good and meaningful UX work, you need to be able to be proactive. If the ratio of software developers per designer is larger than 7 to 1, it's not a good sign—you may end up only doing the work that is handed to you and not having time to dig deeper.
How do UX designers work with other roles? Are they embedded in cross-functional teams?
This is something I always ask in an interview when I'm looking for a job. If designers are embedded with their own teams, it usually means that they'll be able to do better and more proactive work. They don't work on too many things and with too many developers or more than one product manager. Ideally, they should work with one product manager, 3-5 developers, a UX researcher, and a data analyst. This also enables designers to build relationships with the team members they work closely with, which helps promote good design work.
How often are new features released? What is the approach to improve released products and features?
Ask this, especially if you fear that the company doesn't work in a lean and agile way. Does it take months to release a feature? They don't iterate on it after it's released? These are all red flags.
These are the most basics questions to help you find out about a company's UX maturity. I'll talk about more advanced questions in next week's blog post. Make sure you subscribe to my newsletter so you don't miss it.
Use my UX maturity questionnaire to evaluate companies
I created a questionnaire to help you evaluate the UX maturity of a company, which you can use to decide if you should join a company when you're interviewing with them. I wrote a detailed blog post about it and how to use it. The questionnaire provides you with a score (from 0 or low UX maturity, to 100 or high UX maturity) and an estimation confidence in percentage, based on how many questions you answer (Fig 1).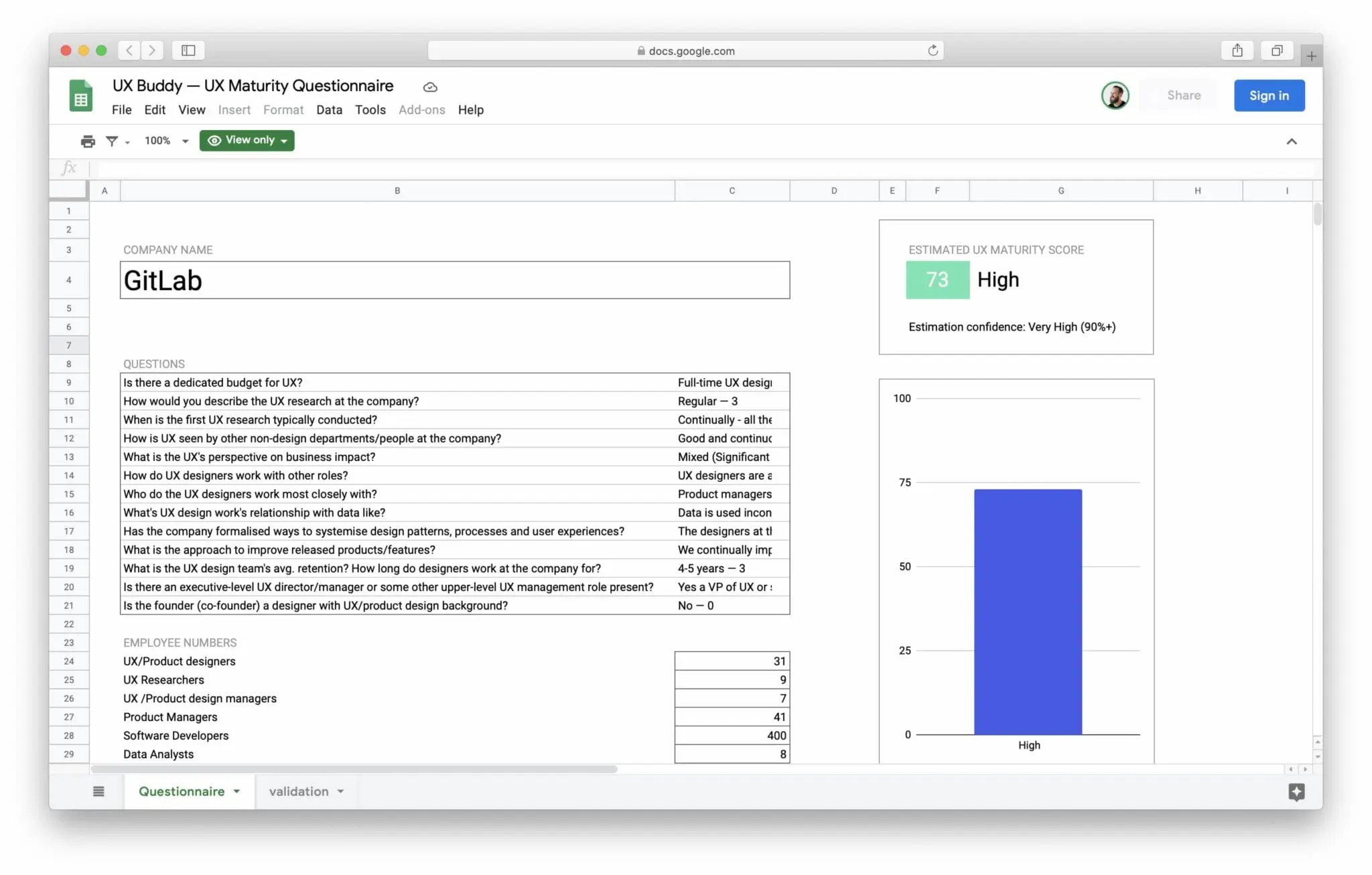 Are you looking to find a better UX design job? Do job interviews and design tasks scare the shit out of you? I created the UX Buddy course to help designers find and get awesome jobs by helping them create their UX portfolio, write their case studies, create their resumé, and prepare for job interviews and design tasks. It's an all-in-one course for taking your UX design career to the next level. Here's a sneak peek of the content included in the course (Fig 2).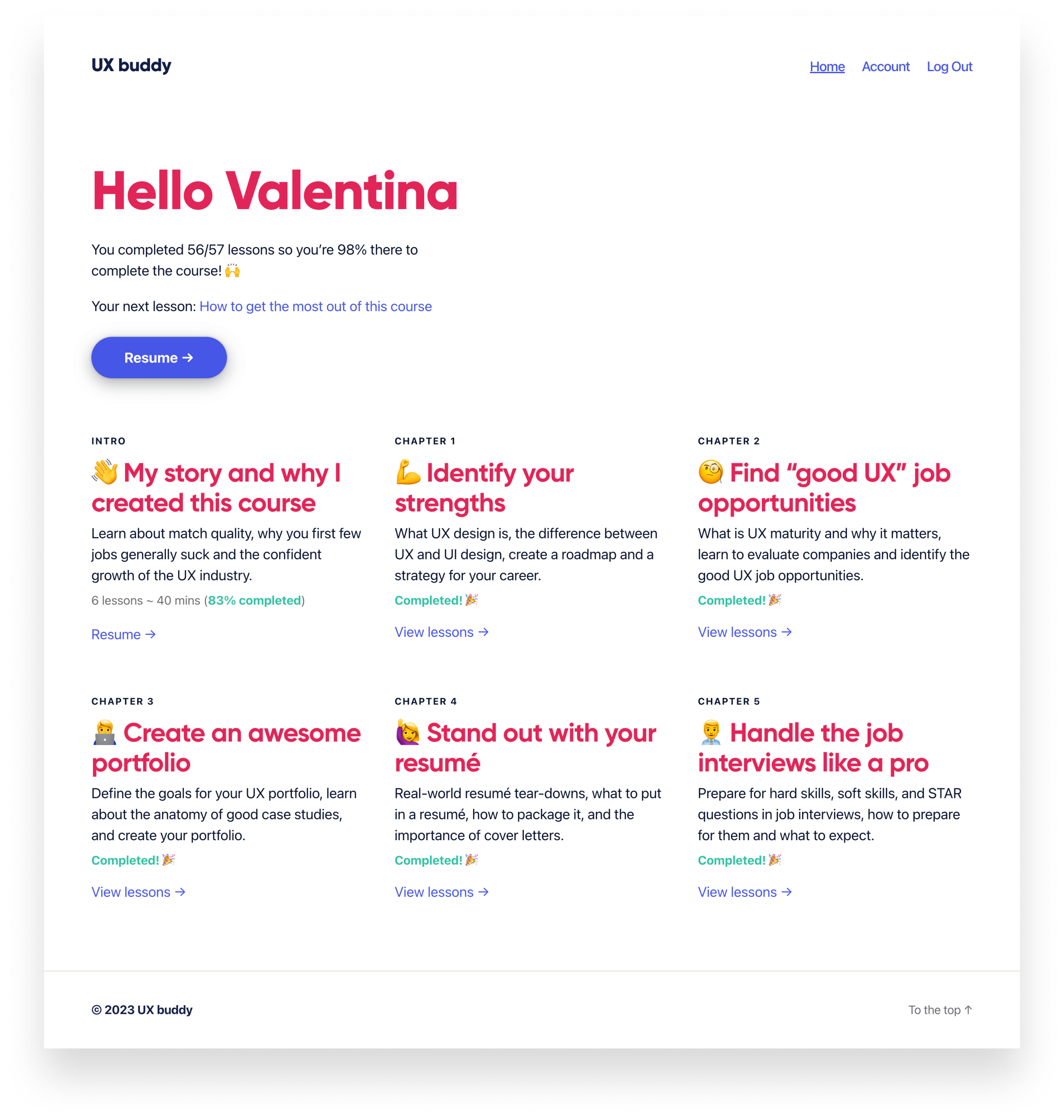 Registrations to UX Buddy are open for a limited time so grab your seat while you can.
Conclusion
Why is not asking questions in job interviews such a disastrous mistake? Because designers end up working for companies that don't appreciate them, they can't do meaningful design work, and they run the risk of getting stuck in their careers, as well as getting stuck doing boring and meaningless design work. Asking some simple questions can help you escape that.
---
Get my next blog post in your inbox
Join more than 20,000 designers already on my personal mailing list.